Welcome to our Duke Memorial Weekday School family!
Established as a nursery school in 1950, Duke Memorial Weekday School now enrolls more than 160 children, ages 2 to 5, and is staffed by a paid faculty.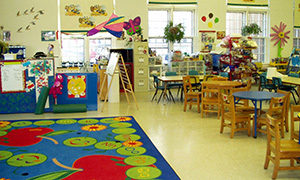 Our emphasis is on building self-confidence and establishing an atmosphere of love, support and security. Admission is open to all children, regardless of race, gender or religious affiliation. Please call us at 919- 688-5130 if you have questions or would like to schedule a tour.
When visiting DMWS after the main entrance is closed, please go to the side door and ring the bell. Please state your name and the person you are here to see. Come to the office to sign in and get a visitor's badge.
DMWS Inclement Weather Policy
When the Durham Public Schools are closed due to inclement weather, Duke Memorial Weekday School will be closed.  If Durham Public Schools are delayed, the Director will determine if Duke Memorial Weekday School should be open, closed, or operate on a delay.
Factors considered when assessing whether to close, open on time or on a delay include, but are not limited to: teacher availability to fulfill Safe Sanctuaries requirements, the condition of Memorial Drive/sidewalks along Memorial Drive, and timing of the inclement weather event.  Parents should check for cancellation/delay information on WTVD and WRAL.  Attempts will be made to notify all families by email.  The decision as to whether or not Duke Memorial Weekday School opens on a delay will be made with the utmost consideration of safety for all of our families and staff members. Duke Memorial Weekday School will build up to 4 makeup days into the school calendar.  Use of these makeup days is at the discretion of the Director.
DMWS is Peanut-free
No peanuts or peanut butter will be allowed in DMWS classrooms.  Children who bring lunches to school for Kindergarten or Lunch Bunch may use other nut butters (cashew butter, almond butter, sunflower seed butter, etc).
News and Announcements
Openings for 2016-2017
Please note: We have limited openings for the 2016-2017  school year. Please email Julie Allen or call (919) 688-5130 for more information.
Get your DMWS Spirit Wear
Tees, totes, and DMWS spirit wear may be ordered on-line from Company Casuals
Calendar of Events
Upcoming Duke Memorial Weekday School School Events
December 7- Parents' Council meeting
December 11- DMWS music students sing at 10:55 am worship service
December 12- Poinsettias arrive
December 12- Teacher Holiday Luncheon/Staff meeting
December 16- Last day of school for 2016
Looking Ahead
January 3- School resumes
January 11- Parents' Council meeting
January 16- NO SCHOOL due to MLK Holiday
January 23 & 24- Parent Conferences- No school for children
January 25- Registration for current students and siblings
January 27- Registration for church members and alumni
Febuary 1 – Parents' Council meeting
Febuary 2 – Public Lottery at 10am